#1 Baytown Irrigation Repair Services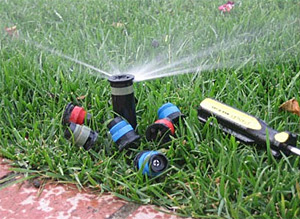 Service seems to be going the way of the dodo. People are being replaced with computers everywhere you look. More and more, workers are treating customers like they are an inconvenience instead of the reason for their job. You won't find that with our Baytown irrigation repair service. There are no computerized answering services, you don't have to press 1 for English - you just get good old fashioned service.
It doesn't matter what type of system you have, we service it. We do commercial sprinklers systems by Toro and Irritirol and residential systems from Hunter, Rainbird and more. We install controllers by Weathermatic and drip systems by Netafim, we even have a client that uses a Fertigator system. If it goes underground and delivers irrigation to your yard, we service it.
Contact Our Irrigation Team For Any Of The Following:

Valve location and repair
Electrical line location and repair
Leaks in the main
PVC and poly based system repair
Tune ups
Below ground irrigation
System additions
Rerouting
Controller, clock and timer adjustments and programming
Shut off valve installation and repair
Winterization
Spring start up
System optimization
Drip irrigation line installation and repair
Pop up head replacement and repair
Individual rotor service
Underground leak detection
In addition to sprinkler repairs and irrigation installation, our team of specialists also has connections with several top landscapers and hardscapers in the area. If you want to redesign or redevelop your landscape, we can do it. We can do full system retrofits, additions and entire new installations. If you can dream it, we can make it a reality.
We Will Make Your Yard Look Green Again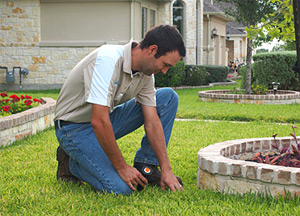 There is nothing more important to us than making sure that your lawn looks its absolute best. Sure, that means you'll get the best calibration of your existing system, but it also means you'll get design tips from our rained staff.
We can help you create focal points in your front yard to make your curb appeal stunning. Some of the simple tricks we use can raise the value of your home tens of thousands of dollars.
Call our Baytown landscaping and irrigation repair experts and get a yard that neighbors will be envious of for years to come. Or, create a backyard retreat so you can come home and forget the rest of the world. We do it all, and we do it at an amazing value.